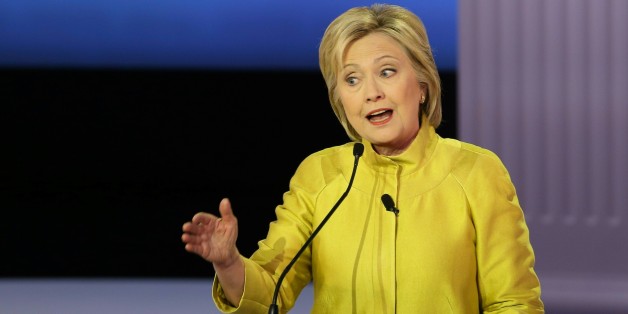 If you're not a fan of Hillary yourself, this piece will take some suspension of disbelief. It's an attempt to explain why her "love and kindness" supporters eventually reach the end of their ropes and post mean replies to Sanders fans.
We don't feel like we started this fight. Many of us liked Sanders early on, for all the reasons his diehard fans still do. Equality and democracy are important Democratic principles and he said some great stuff.
But then he kept saying exactly the same stuff. If you've seen one speech you've seen them all. His published proposals failed to add up. He started attacking institutions and people dear to the DNC. So many of us stepped back and said, "not only can he not accomplish what he's promising, he's actually working against us on several fronts."
We became the subject of attack. Somehow Hillary was worse than Trump or Cruz or Kasich or Bush. Somehow she was the great evil power to be defeated, and anyone who sympathized with her was a sell-out, a shill, blind, ignorant, heartless, undemocratic, "establishment."
We tried to explain the economic flaws in Sanders' plans. He can't deliver on his promises. A quick glance at Sweden's history with a 50 basis point Financial Transaction Tax and the resultant capital flight demonstrates not only how short Sanders would be on funding, but a liquidity risk to the world markets on the level of the 2008 crash. His infrastructure proposal relies on an unprecedented 5% growth rate. "Break up the banks" is a hollow goal, according to those in the know.
Sanders fans wouldn't hear it. They preferred not-an-economist Robert Reich over Nobel economist Krugman. They pointed at the list of 170 mostly-not-economists that endorsed Bernie's plan and ignored analyses by top tier folks like Romer & Romer, IGM and the many ex-White House economists that pointed out the basic flaws in BernieMath.
The same head-burying happened with delegate math. Sanders was all but eliminated after the first Super Tuesday. Sure, there's technically *still* a chance if millions of prospective voters flip, but history says Hillary has a lock on this, and Sanders faced a delegate gap three times larger than had ever been bridged. Hillary's inauguration aside, we were honestly trying to soften the inevitable blow our friends were going to experience.
We tried to help, at first. There are decades of vehemence against Hillary rooted in Rush Limbaugh and other AM talk radio hacks, and it was somewhat painful to see our friends side with them over her. We wanted this primary to wrap up so we could all join forces against the eventual GOP nominee. Instead it's May and the worst anti-Hillary rhetoric still comes from within our own ranks.
We tried to point out the flaws in his plans, his slim chances at election, and his lack of real leadership or support for other progressives. Invariably, someone in the thread would get angry and start personal attacks. Debate about history or individual proposals was very difficult.
We got tired of battling the completely backwards perceptions that Hillary was the problem with Citizens United, Panama, and Honduras instead of being part of the solution. Those we debate always shift focus to "well what about XYZ?" or simply stop responding. Reputable news sources couldn't be brought as evidence; even 538's math, with models locked in before the election, was deemed partisan in their number reporting.
Eventually, most of us snap. We got tired of the labels and the notion that we're working against fairness and democracy. We started to notice that cries of "election fraud" only happened in states Sanders lost, and that proven fraud by Sanders staff was ignored. We took note of which "news" sites were thin feel-good or easy-outrage clickbait blogs. We felt personally hurt when Hillary was painted as dishonest or mean or selfish.
So we yell back, or post Bernie memes, or unfriend people who've become toxic. We usually feel bad about it and often delete our angry responses. We're trying to take the high road, because that's what the DNC is about. That's what Hillary is about.
So yes, you'll sometimes see an angry reply from a Hillary fan. From our perspective, we're only giving back 10% of what we take.
Sanders fans undoubtedly feel the same way, as what they see as our first big chance for change gets sidelined, locked out and ridiculed.
It's not yet time for full reconciliation within the Democratic Party. When that time comes, perhaps after the convention, I do hope we're able to step in each others' shoes, let go of the vehemence, and put that energy toward our common goals in 2018.
This post was read 7443 times.