Michael Collins
Creative Commons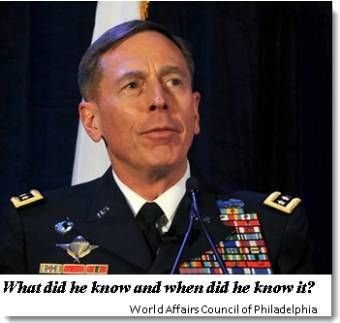 (Washington, DC, 11/15) The bitterness of the neocons knows no limit.  They're still having tantrums after being denied the unchallenged ability to pillage and plunder at will (and at our expense).  Never mind that the public doesn't want to hear it.  The Congressional Republicans are jumping up and down over their big question:  When did President Obama know about the affair between General Petraeus and Mrs. Broadwell? Talk about a misguided salvage operation.  Their inquiries will spark some questions that they won't want asked. (Image)
The real questions concern the behavior and motivation of General Petraeus in the aftermath of the murder of the United States ambassador to Libya, Christopher Stevens, on September 11, 2012.
When did General Petraeus know the sequence of events that preceded the murder of United States Ambassador Stevens, indicating the likely motivation for the murder?
The Petraeus CIA provided inaccurate information about events on the ground to the Obama Administration, particularly to President Obama and United Nations Ambassador Susan Rice. Did they know it was inaccurate?
If the Petraeus CIA mislead or withheld information from the White House or allowed that to happen, was it in the service of the Romney campaign or those clamoring for an attack on Iran? Read More