Michael Collins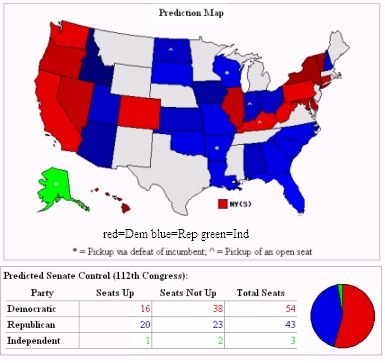 Dave Leip's US Atlas of Presidential Elections
Here's my prediction for the Senate races. I see the Democrats holding on to a 54 seat majority. If this happens, watch the rules for the new Senate. Will Reid keep to that 60 vote cloture requirement that's been used to kill any progressive legislation? Duh, of course he will!
My predictions don't matter that much (or at all) but the Presidential Atlas is a gem. You can get raw data, review past elections, and participate in a forum. It's an excellent resource. The site is without any bias whatsoever. Dave Leip collects the data and you get real election results, unlike those provided on election night. A good deal of voting results come in up to a month after the election. Membership is free, right column.
This post was read 48 times.