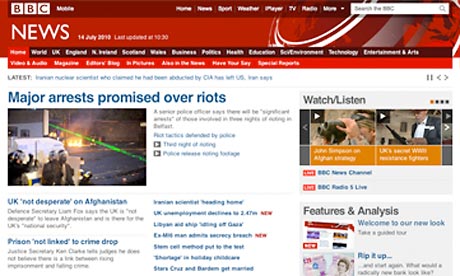 Dropped in without a beta.
Now Day 5 of
"indexed by ip address/
indexed just for you- /
don't try to find anything you're not expected to"
BBC News Web design blues
and still clueless (see comments)
The dumbing-down is terrifying-
What would BBC America's 'Iraq invasion' have buried in the index?
Still, they're aiming for more traffic!
FAQ's on some important content changes below the fold.

---
"Is the international version of the site changing?
Yes. Three sites – UK, global and a new North America edition – will share the same design and layout, as well as the same functionality and content. This ensures that our audiences around the world benefit from the same consistent experience. One project team has been working on the design of the three sites so it has been done cost-effectively and we have avoided any duplication.
What is the North America edition of the BBC News website?
The North America edition will still contain all our existing and future content, including the full range of coverage from the UK and news from around the world. Our editorial team in the BBC's Washington bureau will tailor the indexes of this edition accordingly, working to provide the most relevant and timely news and analysis for users in the US and Canada. This content will of course be available to all users, wherever they are.
We are doing this after listening extensively to what our users in the US and Canada have said, and with the backing of the BBC's commercial arm, BBC Worldwide, which funds our online service internationally.
Can I access the North America or international edition in the UK?
While it's not currently possible to switch between editions of the site, it is important to point out that content on all editions is available to everyone, apart from particular rights-restricted video such as BBC iPlayer content – it is simply re-ordered and prioritised accordingly.
Will the BBC be launching more region-specific versions of bbc.com?
BBC Worldwide will, in time, be looking to introduce more locally-tailored news sites, as this is an important step in growing the reach of the site.
Why are there adverts when I access the site from outside the UK?
The BBC website is used by over 50 million people outside the UK, although they don't directly pay for the website via the UK licence fee. Through the placement of advertising on the site outside the UK, BBC Worldwide, the commercial arm of the BBC, is able to generate revenues to go back into the BBC's core services.
There are strict guidelines around the placement and delivery of campaigns on bbc.com and we do not accept advertising from inappropriate advertisers. Protecting the BBC brand is of great importance to us."
This post was read 113 times.