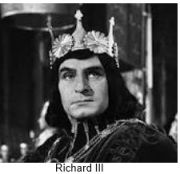 By Michael Collins
Is Murdoch getting ready to trade his kingdom for a horse? Supposedly, News Corp did a compliance review on the voting rights of foreign shareholders. The company discovered that it was way out of line for the amount of foreign shareholder voting rights, thus imperiling its bid to renew the licenses for it's domestic television properties (based on the Communications Act of 1934).
"News Corp, which has spent most of the last year battling the fallout from the News of the World phone-hacking scandal, inadvertently allowed foreign investors to hold 36pc of Class B voting stock "" well past the 25pc limit enshrined in American 1934 Communications Act.
"In order to fix the problem, on Wednesday it suspended 50pc of the Class B voting rights of its investors outside the US, effectively halving the power of certain foreign investors." The Telegraph, April 18 & Financial Times, April 18
This includes Prince Alwaleed bin Talal, Saudi investor, who will have his 7% share cut in half for voting. Talal is a big Murdoch supporter.
Two points. This is a sign of weakness. They knew or should have known this was the case but now they're acting. News Corp probably got a tip from some "friendly" in government and preemptively corrected the problem. One commentator asked, When was the last time they reviewed voting rights, 1936?
The prompts the second point, which consists of questions? Was News Corp out of compliance on foreign voting shares when it last renewed it's domestic broadcasting license? Will anyone in authority investigate? If they determine that the licenses were renewed with News Corp violating the 1934 Communications Act, will anything be done about it?