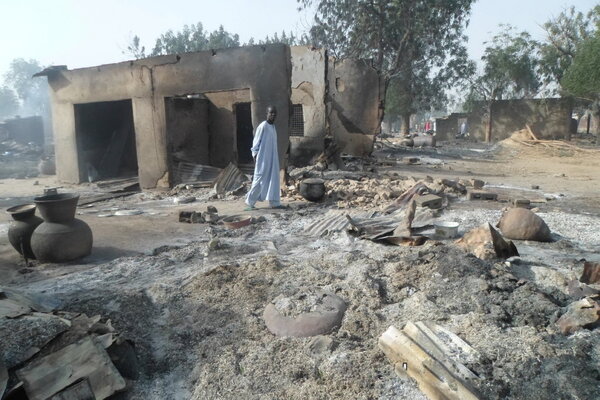 Christian Science Monitor – DALORI, NIGERIA —  A survivor hidden in a tree says he watched Boko Haram extremists firebomb huts and heard the screams of children burning to death, among 86 people officials say died in the latest attack by Nigeria's homegrown Islamic extremists.
Scores of charred corpses and bodies with bullet wounds littered the streets from Saturday night's attack on Dalori village and two nearby camps housing 25,000 refugees, according to survivors and soldiers at the scene just 5 kilometers (3 miles) from Maiduguri, the birthplace of Boko Haram and the biggest city in Nigeria's northeast.
The shooting, burning and explosions from three suicide bombers continued for nearly four hours in the unprotected area. Troops arrived at Dalori around 8:40 p.m. Saturday but were unable to overcome the attackers, who were better armed, said soldiers who spoke on condition of anonymity.
This post was read 1078 times.