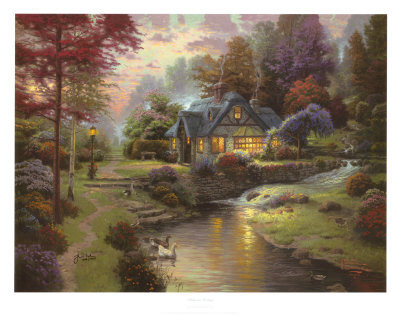 The sudden death last month of American landscape artist Thomas Kinkade, at age 54, left the art world perplexed at the loss of one of its most ridiculed yet successful practitioners. A coroner's report released yesterday showed that Kinkade died of an accidental overdose of alcohol and the anti-anxiety drug Valium. His brother's response to this report indicated that Kinkade suffered from alcoholism, and depression over his divorce, substantial financial problems, and the incessant criticism of his art by professionals.
This last point is rather surprising, since throughout his career Kinkade showed scorn for the critics, and claimed to be crying all the way to the bank. Apparently all those millions of dollars he made mass-producing his art didn't really assuage his inner need for critical approbation. Or, to put this another way, maybe it really was about the art after all. His art did have an immediate emotional pull, and had he chosen just to do oil paintings without all the reproductions and marketing hype, the emotional pull would still be there. The fact that critics didn't like the nature of that emotional connection to the viewer "" that it was too coy, too 19th century, too deliberate "" apparently offended Thomas Kinkade. After all, he said, he was only giving the public what it wanted.

In the high end art world, artists don't give the public what they want. They give them what they don't want and do not expect, but apparently need "" a social commentary, a new way of looking at things, a clever use of materials, a jolt of whimsy or humor. Kinkade's trademark scenes of warm and inviting cottages, gardens overpopulated with flowers, and lonely lighthouses "" all of it gauzed over in an impressionistic mist "" was too much for the critics, or rather, too little. Not enough edge, and way too pandering at the same time. Add to that a very 1990s distribution machine, which circumvented the high end art galleries, and the established art world decided early on that whatever Kinkade was producing, it wasn't art.
Kinkade's paintings were viewed as the type of landscape that television star Bob Ross would create in an hour, as an example of what anyone with the smallest interest in art could produce if they practiced long enough. This was over-simplying things. Thomas Kinkade was clearly a step above the pedestrian, though pleasant, scenes amateur artists produce every day. Kinkade had a signature look to his art. His landscapes featured soft pastel colors, but impressionism wasn't exactly his style, because he wanted enough detail for his subject matter to pop out of the frame. It was his subject matter that made his reputation, as almost all of his paintings had as a focal point a single warm, inviting house or cottage. The home was always situated alone alongside a garden or pond or bubbling brook, and sometimes nestled in a valley surrounded by majestic mountains. His cottages in particular could have been snatched out of any Disney cartoon, and indeed later in his career Kinkade teamed up with the Disney Corporation to paint a series of tributes to Disney's most famous cartoons.
Kinkade credited his interest in art to his introduction as a child to the illustrations of Norman Rockwell. Kinkade liked to compare himself to Rockwell "" a figure who in his time was not always taken seriously as an artist. Norman Rockwell's art grabbed the attention of the American public because it spoke to them honestly about what the average American's life was about. Rockwell achieved his effects by showing people in normal situations "" at the barbershop, during Thanksgiving dinner, attending a parade. The focal point of every Rockwell painting was a person or persons, drawn in Rockwell's distinct, folkloric style, often with a humorous or patriotic undertone to the scene. Rockwell, however, was not always lighthearted. His painting of a young black girl walking into school past an array of hostile state troopers "" a clear reference to the struggle to integrate schools in Little Rock, Arkansas "" reminded the public that Rockwell could occasionally be a biting critic of the American scene.
There was no such tension in Thomas Kinkade's art, because in his bucolic homestead paintings there never were any people depicted. The prerogative of the landscape or still-life artist is to avoid showing humans, which is convenient if the artist feels uncomfortable drawing the human figure. Kinkade was technically talented enough to draw humans well; they are completely a part of his urban scenes, which he did in the early part of his career. But in his signature art of houses and cottages, the "œperson" at the center of his paintings is in truth the house, and real humans might have distracted from the fantasy he was depicting.
Kinkade went all-out to make the fantasy as appealing as possible. His trademark gimmick was to make the house glow from the inside "" literally. Every window in one of his houses was suffused with a soft yellow light. Critics mocked these scenes by suggesting the inside of his houses were on fire, but the public never saw it that way. Another trick Kinkade used was to throw highlights on the patches of flowers that lined the roadway leading to the house or filling the garden next to the house. Kinkade was indiscriminate about his use of light "" parts of his paintings would be lit up as if spotlights were shining down from above, even though it was a cloudy day. Light would come from all different directions, since Kinkade cared nothing for the scrupulous attention most artists paid to the source of lighting when they painted something in a traditional style. Similarly, his chimneys always had smoke emanating from a fireplace, even if it was obviously summer outside.
An overwhelming number of viewers of these paintings had one consistent reaction: "œI want to live there." People instantly imagined what it would be like to open the doors to the home or cottage, and immerse oneself in all the comfort and soothing balm his home exteriors exuded. It was instantly assumed that the family within was loving and welcoming "" nothing, in fact, like the fractious and feuding families most viewers recognized as their own. This style of painting was so distinct, that by the 1990s the public began to recognize a Thomas Kinkade painting instantly. Kinkade, in turn, realized he was on to something hot, and he began styling himself as the "œPainter of Light." He even went to the trouble of trade-marking the phrase. The art world hooted at this arrogance, pointing out that painters as far back as J.W.M. Turner had been called painters of light. Until Kinkade, no one had thought of the advantages of appropriating the title entirely for themselves through a legal trademark.
This gave Kinkade an opportunity to pursue two cultural and economic trends that defined the 1990s and most of the next decade. First, his home scenes began to generate real interest just at the time as the housing bubble in the US began to inflate. Model homes in newly-built subdivisions would feature Kinkade prints as a perfect example of what the property developer wanted to convey emotionally to potential buyers. The buyers in turn wanted one of these paintings in their living room once they bought the house.
To satisfy this growing demand, Kinkade hopped on to another trend that was popular in the US retail sector: franchising merchandise by licensing entrepreneurs to sell his art in upscale shopping malls. Kinkade-registered stores started cropping up all over the US; it was estimated that a franchisee had to invest $150,000 of their own money up front just for the privilege of selling Kinkade art. The large amount of money was needed to pay for the lush carpeting and the high-beam spotlights that separated the art from the expensive wood paneling on the walls.
The biggest part of the expense was buying the inventory to stock the store. Kinkade's marketing corporation was very explicit about what was required from its franchisees. At least one original oil painting should be displayed (originals could cost as high as $10,000); the bulk of the collection should consist of prints that imitated the texture of oil (from $1,000 to $5,000). The low end of the collection was composed of prints executed on standard cardboard. All paintings were framed. To fill in the price points from $5,000 to $10,000, Kinkade invented a new type of art object. He would hire students just out of art school, and have them dab splashes of color on the prints that felt like they were really painted on the cardboard. These dabs of color gave the print an even closer feel to an original oil "" the viewer could see the paint itself raised from the canvas. The students were in the classic "œtrained monkey" position "" they could not veer a millimeter away from the places Kinkade described for particular colors, lest they hurt rather than help the visual impact of the piece. This extra effort allowed dealers to sell these types of prints as quasi-oil paintings that could fool the casual observer.
Everything in these upscale stores carried a "œCertificate of Limitation and Authenticity", defining how many copies of a particular painting existed in print form. This was the beginning of Kinkade's mammoth marketing machine, that inhabited every significant mall in the country. Throughout the 1990s and into the next decade, Kinkade became a household name. He bragged about being the best-selling living artist (which was probably true), and he championed his right as an artist to "œgive the public what they wanted." Apparently, though, the public wanted more of Kinkade than the stores could provide. He began to mass-market through magazines, selling cheaper versions of the material in the store, adding lithographs to the selection, and then a dozen or so smaller, quite affordable "œknick-knacks", such as commemorative plates, Christmas ornaments, Christmas villages scenes, ashtrays, jigsaw puzzles, computer mousepads, and so on, each containing an image from his oil painting collection (which by now included several hundred originals). Inevitably, in all this variety of regurgitation of a single oil painting, the oil painting itself got lost in process, partly because the public couldn't afford the original. The people who could afford the painting didn't want the investment risk, because the image had been so diluted by the merchandizing.
There was one more important development that carried sales even higher in the 2000s: in his personal life, Kinkade converted to Evangelical Christianity, and saw no problem in cashing in on the growing strength of Evangelicals within American society. He began a series of paintings with devotional themes, which eventually included several with enormous popularity, such as "œThe Garden of Prayer," and "œStairway to Paradise." In these paintings the centerpiece of the home or cottage was replaced by a gazebo to be used for prayer, or a view of an imaginary majestic scene from God's natural creation. Again, people did not feature in these paintings, as the viewer was expected to place themselves within the image on the canvas. Occasionally, though, Kinkade would use an image of Jesus as the focal point, showing him from the back or from the side, again allowing the viewer to fill in the blanks, which was not difficult considering the universal iconography that existed for Jesus.
When you start associating yourself with Jesus, especially if you are marketing products in his name, you better behave yourself like Jesus. Kinkade's problems with alcohol rose early in his career. He battled the disease on and off during his adult life, mostly with success. It was the failures that caught the public's attention, like the time he was arrested on a drunk driving charge, or his public outbursts of anger. When he was caught one day pissing on a statue of Walt Disney at a hotel, the national press carried the story. The spiritually-moving depictions of Jesus that Kinkade was selling took on an indelible tarnish.
Behind the scenes, there were other troubles. His franchisees were complaining that Kinkade contractually forced them to sell his art at high, fixed prices, while he was at the same time undercutting them by selling the same art in his catalogues at lower prices. These were the early days of internet selling, Amazon.com, and eBay, but it was only a matter of time before the mall stores began to be hurt by the internet, and one by one they started to close down. Then came a lawsuit from one of Kinkade's franchise partners, which asserted fraud on Kinkade's behalf. The suit dragged on for years, but eventually Kinkade lost and lost again on appeal. The multimillion-dollar judgment against him forced him to put his merchandizing business into bankruptcy in the middle of the 00s.
It was not a coincidence that Kinkade folded his marketing company at the same time the housing bubble burst in the US. It was a lot easier for people to put $4,000 down on a Kinkade lithograph if they had just taken $50,000 cash out of their home through a home equity line of credit. The cash flowed freely when the banks kept the credit spigot open on the assumption any default could be rectified by the inevitable rising value of the property. When this assumption of ineluctability proved false, the free cash flow dried up, and so did Kinkade's business.
The established art world suffered as well during the market crash of 2007-2008, but not as much and not for long. Their customers, after all, were the hedge fund billionaires and Wall Street financiers who had access, if not control, of the US Treasury. Kinkade was not so lucky. His customers were the taxpayers themselves, and they have never recovered since the market crash. Kinkade's fortunes were tied to theirs, and it was no wonder in this ongoing economic depression that he fell back to his old habits and crutches.
Would his reputation as an artist have been better served if he had avoided the saturation marketing that made him at least for awhile a multi-millionaire? Kinkade might have wondered about that in his waning years. Kinkade's art is at least as good as a similar post-Impressionistic painter, Edouard Cortes. Cortes, who died in 1969, settled in France and specialized in Parisian street scenes, many of them at night when the street lamps and store windows could give off a warm, yellow glow. The look of a Kinkade painting is very similar to that of a Cortes painting, especially Kinkade's early ones that focused on street scenes. Cortes' oil paintings are not rare, but they were never reproduced extensively in other formats. In today's market Cortes is a staple line of business for many respectable art galleries, and his oils can fetch $25,000 to $50,000. An original Kinkade oil will be lucky to achieve the low end of that range.
Another American artist Kinkade is compared to is Leroy Neiman, a specialist in hyper-bright paintings of sports scenes and celebrities. Kinkade used a lot of color in his paintings, and it is softened and so pastel in nature that the eye finds nothing disturbing in the contrasts. Neiman is a much more brilliant technician when it comes to color. His bright reds, blues, yellows and other related strong colors are perfectly matched so that they do not detract from the person or scene being presented. But then again, you come back to the issue of emotional impact. Would you rather have Rocky Balboa staring down at you perpetually from over your fireplace mantel, or would you prefer the soothing and inviting look of a cottage surrounded by flowering trees and bushes?
Most people would go for the cottage and the suggested comforts of home. This is why Kinkade will continue to sell. He may never sell like a Cortes or a Neiman, because he made the decision early on to cash in on his talent. You can buy a great variety of nicely-framed Kinkade prints for $50 each on eBay. But there will probably always be a market for Kinkade's work, as long as the average person wants to be reminded of the concept of the idyllic home. And rather than snoot and sniff at the average person who prefers to spend their money on a Thomas Kinkade canvas print, the established art world in New York or London or Paris ought to give a little prayer of thanks to all these average people. They bailed out the hedge fund managers and Wall Street billionaires who buy the high end art, and it is really hard to argue that the average billionaire has better taste than the average person. They just have more money, and can spend it on the art that the arbiters of fashion and taste makers deem is true art. That Thomas Kinkade never made it on that list, tells us more about the list makers than it does about his art. The professionals may view a Kinkade print as the comfort food of the art world, but there are millions of these prints atop millions of fireplace mantels, which means there are an awful lot of people who want and need comfort, not edginess or cleverness or piquancy or whatever fine art is supposed to provide. Kinkade's achievement is that he understood this, and understood it far better than the billionaires who've done so much to remove comfort from the lives of millions of ordinary people.