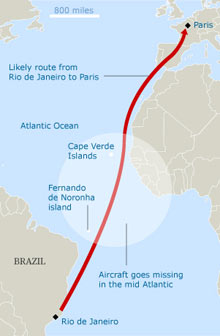 An Air France passenger jet with 215 people on board is missing after dropping off radar over the Atlantic off the Brazilian coast Monday, a Paris airport official said.
Air France crash: 'No hope' of survivors
The Air France plane that disappeared between Brazil and France with 228 people on board today has almost certainly crashed with no survivors, airline and government officials have said.
They believe the Airbus A330-200 aircraft crashed after running in to lightning and thunderstorms over the Atlantic Ocean.
"We are probably facing an air catastrophe," the Air France chief executive, Pierre-Henri Gourgeon, told a news conference.
He said the aircraft went through a thunderstorm with strong turbulence at around 3am BST.
An automated message was received at 3.14am indicating a failure of the electrical system, Air France said in a statement.
** Air France plane disappears from radar screens
This post was read 74 times.